Maxfine Tutorial Videos

:

In this tutorial we will see how to handle, lay and cut large MAXFINE slabs. MAXFINE high-tech ceramic slabs are suitable for being carried and worked very easily, thanks both to their relatively light weight due to their thinness and, at the same time, to the solidity of porcelain. All this can be exploited by means of some technical arrangements. With the large-size MAXFINE slabs, in addition to covering floors and walls, it is possible to customize a large range of furnishing and interior design items, benefiting from the high aesthetic qualities and the technical performance levels of a material that is unique in its kind: high-tech ceramic material.
Moving MAXFINE slabs is a simple procedure, but to be carried out with care and attention because of both the large size of the slabs and their limited thickness. After using a forklift and laying the platform, the ceramic slab can be lifted and handled using suction cups with a pressure gauge or by means of the special extendable aluminum device (fitted with 6 suction cups). Equipped with a non-slip rubber seal, the device enables simple and safe handling on the carriage thanks to the sliding handles.
Once a large slab has been placed on the work table, it is possible to cut it, using the professional tile cutter for porcelain slabs. Pre-cut the slab along its whole length by means of the carriage with the diamond-coated blade. Then adjust the pliers and detach the part that has been cut away, even in small sections
After securing a base underneath the large slab, start to make a hole with a screw gun with a diamond bit. To cut a square or rectangular section, use the bits in the four corners (wetting them with a lubricant), then cut with the angle grinder with a diamond blade. Smooth and sand with the appropriate abrasive discs until the best possible finish of the surface is achieved.
To lay the large MAXFINE slabs, prepare the high-performance Class S2 cement-based adhesive. In order to achieve the best possible adhesion, the adhesive will be applied both to the back of the ceramic slab and on the setting bed. Spread it with a trowel and apply it uniformly to the floor or to the wall.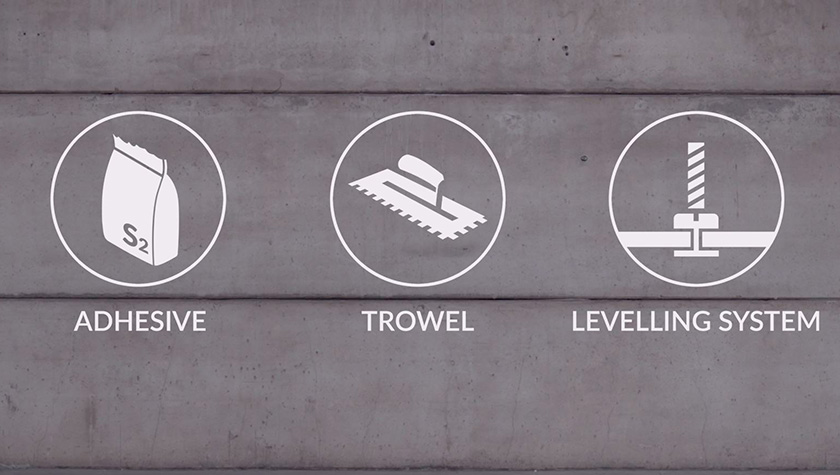 It is possible to customize porcelain surfaces starting from large-size slabs, thanks to the ceramic cutting and profiling machines that enable even circular shapes, for example, to be made. Once the required shape has been formed, it will be laid using cement-based adhesive and then levelling it with a toothed trowel. Using the cutting machine is particularly suitable for design applications and in order to obtain surfaces as customized as possible.